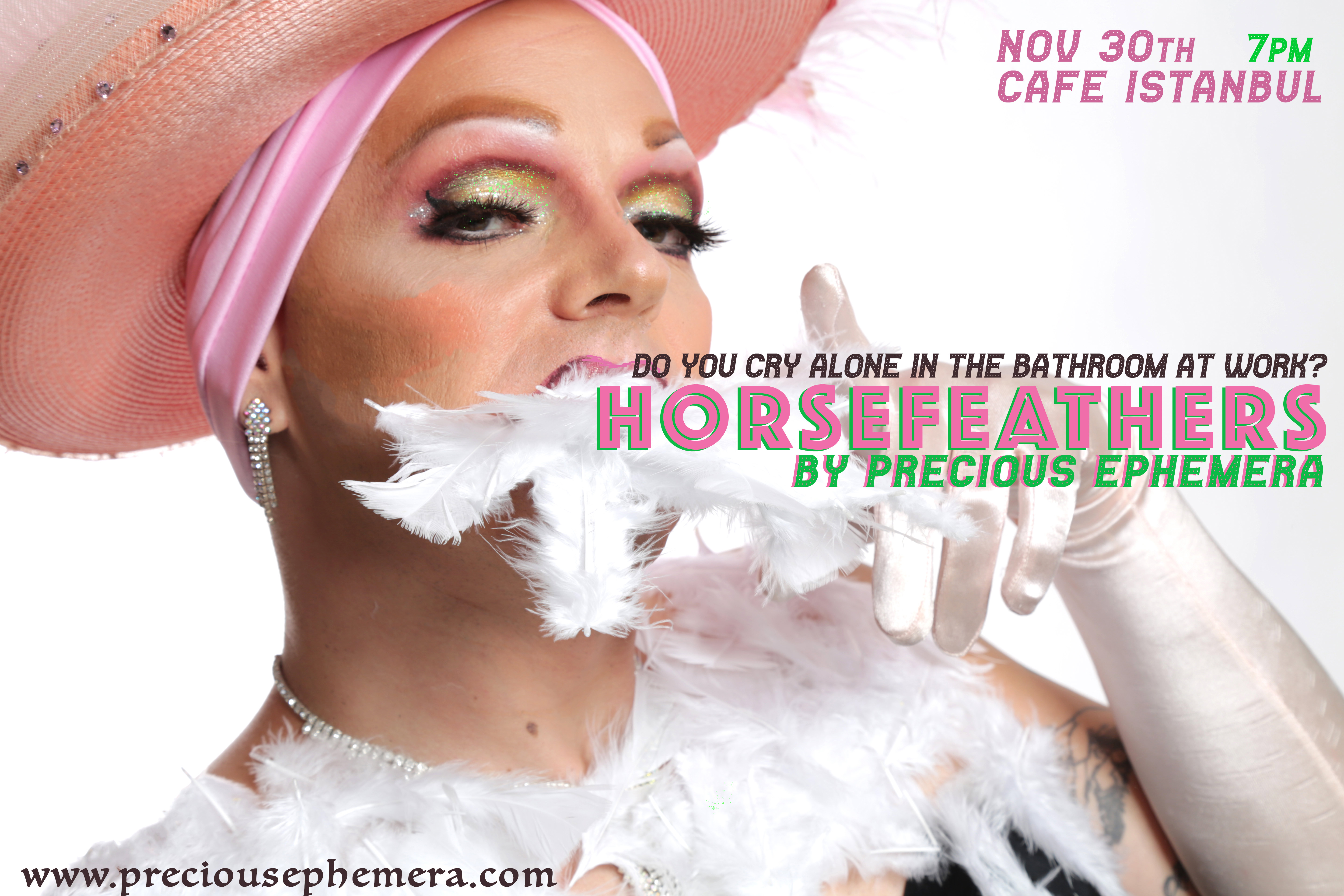 Horsefeathers! by Precious Ephemera
Sat, Nov 30, 2019 at 7pm
Queer, Cabaret
Drag, Burlesque, Boylesque, Comedy, Circus
LGBTQ, LGBT, Gay & Lesbian
Do you get to work early so you can cry alone in the parking lot?
Imagine an enemy sea anemone managing an imaginary menagerie?
If it isn't one thing - it's your mother!
HORSEFEATHERS is the only variety show of it's kind, a timey whimey "tear"-de-force of High Fashion, Flying Circus, and Spiritual Elevation! We're all just doing our best with the tools we've been given, right?
It's High Functioning Entertainment for the Emotionally Stifled!
This event features VIP Priority Seating that includes swag bags with free gifts from local sponsors and personalized memorabilia from the cast. Avant-garde performances from Cabaret All-Stars who have been making waves in the Crescent City and beyond
Puppeteering Pandora Gastelum (Mudlark Theater)
Quadripara-Legal Lady Lucerne (Smash/Catharsis)
Adventuring Alexander the Great (Boiz of Austin)
High Priestess Reverend Mother Flash (NYC)
Up and Coming Showponies: The Darling & Wontonya Dumpling
Featuring a never-before seen Finale from Louisiana's own breakdancing showstopper freshly caught and released from the Burlesque Hall of Fame.
He's 10,000 Leagues of one Extradinary Gentleman
PHATHOMS DEEP
Spiritual Guidance, Storytelling and Comedy with your Host
New Orleans Non-Binary Burlesque Sensation, Precious Ephemera
Horsefeathers! by Precious Ephemera
November 30th at 7pm. $18
CAFE ISTANBUL - 2372 ST CLAUDE AVE
A portion of proceeds supports The Inherently Valid Fund
For tickets to this event visit www.bestofneworleans.com/horsefeathers
For more information about Ephemeral Experiences, visit www.preciousephemera.com