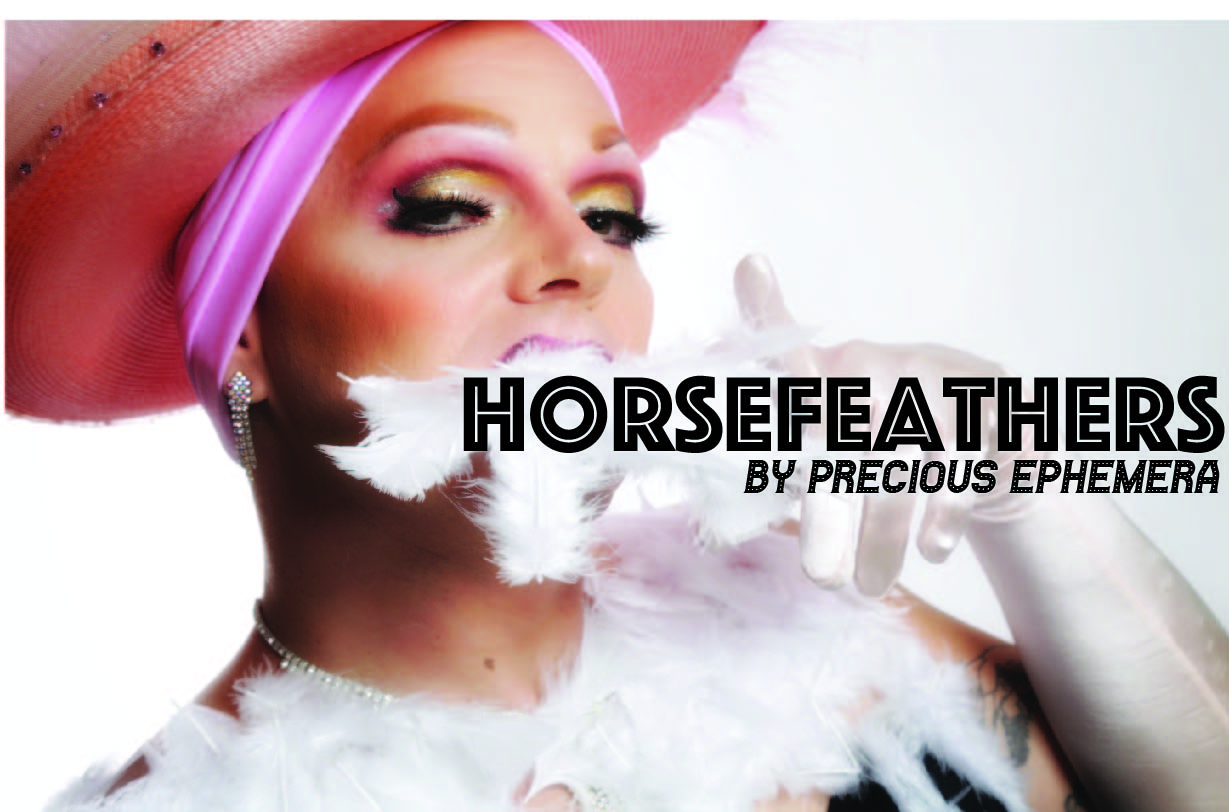 Horsefeathers! by Precious Ephemera


Starring International Superstar Tarah Cards
Fri, Mar 29, 2019 at 7pm
18+
Drag, Burlesque, Aerial Arts, Comedy, Dance, LGBT, LGBTQ, Cabaret, Theater, Queer, Performance
Do you cry alone in the bathroom at work? Fantasize about putting a mischievous hex on your ex? Suffer from a lack of spellboundaries? Witch Please! If it isn't one thing - it's your mother!
High Fashion, Flying Circus, and Spiritual Elevation! A tour de force of Self Care via the Occult and Gestalt.
We might just break your lenten promise for you...
WHAT A BUNCH OF HORSEFEATHERS!
This event features VIP Priority Seating that includes swag bags with free gifts from local sponsors and personalized memorabilia from the cast. Avant-garde performances from New Orleans Drag and Burlesque favorites and some zany magic trickery. Tarah Cards and the Illustrious Haus Of Cards are promising to have you spellbound with this over the top rib tickling cabaret. Precious Ephemera's special blend of non-binary performance and storytelling guffawed audiences last fall and she's back with a special potion.
The Grand Dame of the Damned herself is conspiring with the Ingenious Androgyne for a night that's sure to leave you feeling light as a feather, stiff as a board.
Entertainment for the emotionally challenged, Uplifting Comedy, Burlesque and Variety.
Forget all your troubles, forget all your cares and join Precious Ephemera for an evening to remember!
International Superstar Tarah Cards (Haus of Cards)
with
Dante The Magician
Liza Rose (Fly Circus)
Hann Cowger (NYC)
Juno (Inferno Burlesque)
Jyldo (CHI)
Ariana Amour (Reigning Unicorn of the Crescent City)
Nicole Marquez (Inherently Valid Fund)
Tammy (#preciousandtherealgirl) - Voiced By Gayle King Kong
...and introducing The Show Ponies via Rocket Babe Burlesque
HORSEFEATHERS!
brought to you by:
The New Orleans School of Burlesque
Balance Yoga Wellness & Ayurveda
March 29th at 7pm. $18
CAFE ISTANBUL - 2372 ST CLAUDE AVE
A portion of proceeds supports The Inherently Valid Fund
For tickets to this event visit www.bestofneworleans.com/horsefeathers For more information about Ephemeral Experiences, visit www.preciousephemera.com