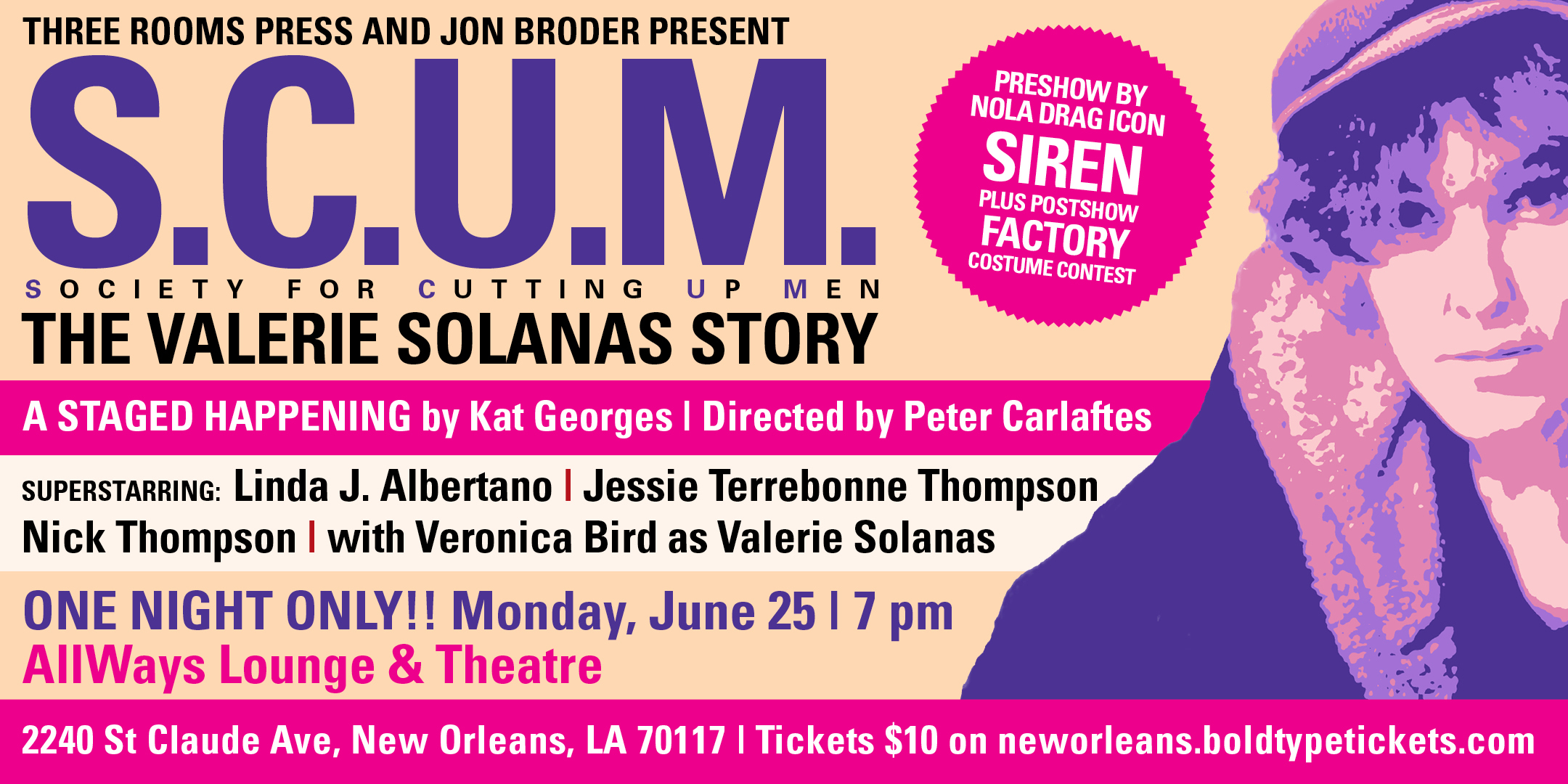 Three Rooms Press and Jon Broder present
S.C.U.M. The Valerie Solanas Story—New Orleans Premiere


with special guest superstars plus a fabulous post-play Factory costume contest!

The radical ideas of Valerie Solanas explode in "SCUM: The Valerie Solanas Story," a play by Kat Georges, directed by Peter Carlaftes. The work will receive its New Orleans premiere in a staged happening at AllWays Lounge and Theatre on Monday, June 25, 7pm.

Solanas, author of the notorious SCUM Manifesto—which foreshadowed the #metoo movement 50 years ago—shot and seriously injured famed pop artist Andy Warhol on June 3, 1968. The play explores Solanas' radical views through the lens of a Factory "happening" featuring a cast of "Superstars," art critics, and outsiders. Furiously-paced and punctuated with slicing humor, whip dances, and anarchist ideals, "SCUM" cuts through façades to capture the spirit and value of artistic imagination.

The multimedia extravaganza stars New Orleans actress Veronica Bird as Valerie Solanas, with Jessie Terrebonne Thompson, Nick Thompson, Linda J. Albertano, and Peter Carlaftes, who also directs. "SCUM" is written by internationally-renowned poet-playwright Kat Georges, and is produced by New Orleans' theater maven Jon Broder.

In addition to the play, the night will include a special preshow hosted by famed New Orleans drag superstar Siren. And following the show, the night will wrap up with a Factory costume contest celebrating the style and creativity of Warhol's famed Superstars such as Edie Sedgwick, Viva, Baby Jane Holzer, Candy Darling, Ultraviolet, and International Velvet. All attendees are invited to participate.

General admission is $10.

For publicity and media needs, please contact Jon Broder at pulpsprstr@gmail.com or 504-975-5504.