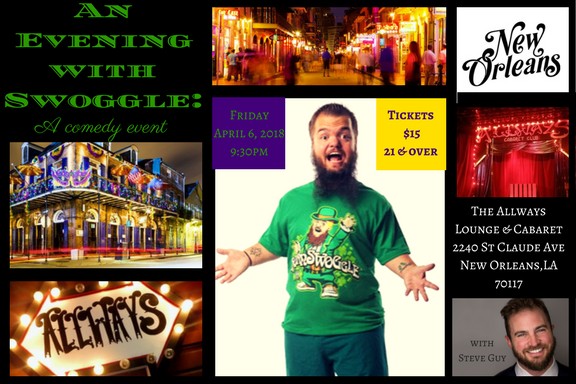 An Evening with Swoggle: A Comedy Event
Fri, Apr 6, 2018 at 9:30pm
An Evening with Swoggle: A Comedy Event
The odds at making it to the WWE are tall. They're even taller when you're a midget. One man overcame all of those and more!
Spend an evening with former WWE Superstar Swoggle as he recounts anecdotes and shenanigans from his nearly decade long career in the WWE. From meeting WWE Chairman Vince McMahon for the first time to portraying his son in storyline; Swoggle is filled with hilarious stories from his career. Being the mascot for one of the most popular factions in wrestling history D-Generation X, announced as the mystery Raw General Manager, and the epic WeeLC match with El Torito, nothing is off limits when it comes to the fun and humorous storytelling of the evening.
Swoggle also takes you on a brief journey of his small (no pun intended) movie career in the films, Muppets Most Wanted and Leprechaun: Origins.
Swoggle will be joined by his friend, professional wrestling ring announcer and comedian Steve Guy, to provide opening laughs and and from Chicago, comedian Chris Clem. Don't worry, in case there's something you wanted to hear about, Steve will be there to moderate a Q&A to end the show!
And oh yeah, it's Mania weekend, you never know who else might show up......
Doors will open at 9pm. Show starts at 9:30 pm. Tickets are $15
*Please note all sales are final and non-refundable