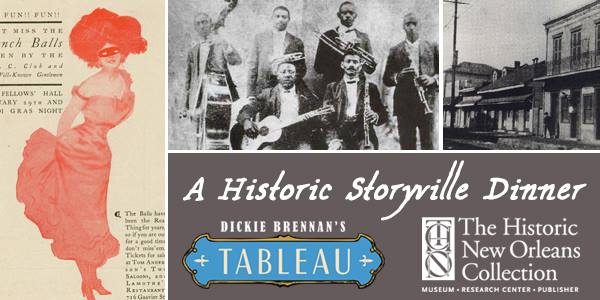 2nd Seating Historic Storyville Dinner
Wed, Oct 18, 2017 at 6:30pm
** SOLD OUT **
Due to the overwhelming response to The Historic Storyville Dinner, THNOC and Tableau have agreed to host a second seating of the dinner!
Tableau's Executive Chef, John Martin joins Drinks Historian, Elizabeth Pearce, and The Historic New Orleans Collection's Co-Curator of "Storyville: Madams and Music," Pamela D. Arceneaux, for an unforgettable evening depicting the food, libations, and businesses that shaped New Orleans' former red-light district, Storyville.

Tableau presents an evening with culinary delights and beverages found in New Orleans between 1897 and 1917. The menu will feature historical dishes including Potage Printaniere, Gulf Shrimp Joinville, Rabbit Rillettes, Petit Filet of Beef Mahogany Hall-Pan, and a Raspberry Jelly Roll Morton. Each course has been carefully curated and paired with a beverage inspired by Storyville.
Early Bird Tickets (until October 1): $85
General Dinner Tickets (October 2-17): $100
price includes tax and gratuity
Each course to be paired with a historic cocktail.
Amuse Bouche:
Local radishes with butter and sea salt, house pickled vegetables, assorted olives
Bread service:
Pissaladiere, flatbreads, Leidenheimer bread
First Course:
Potage Printaniere
Chicken consommé, diced local vegetables, truffle dumpling
Second Course:
Gulf Shrimp Joinville
Spicy seared Gulf shrimp, "oyster patty," crawfish velouté
Third Course:
Rabbit Rillettes
Roasted rabbit, lardons, tarragon, rose peppercorns, quince jam, warm baguette
Intermezzo:
Lemon and bay laurel sorbet, langue de chat wafer
Fifth Course:
Petit Filet of Beef Mahogany Hall-Pan
Seared filet, "fusion" of sauces Bordelaise and Bavorise, potato croquette, asparagus bundle
Dessert:
Jelly Roll Morton
Raspberry jelly roll, salted chocolate bark, Crème Anglaise, raspberry coulis