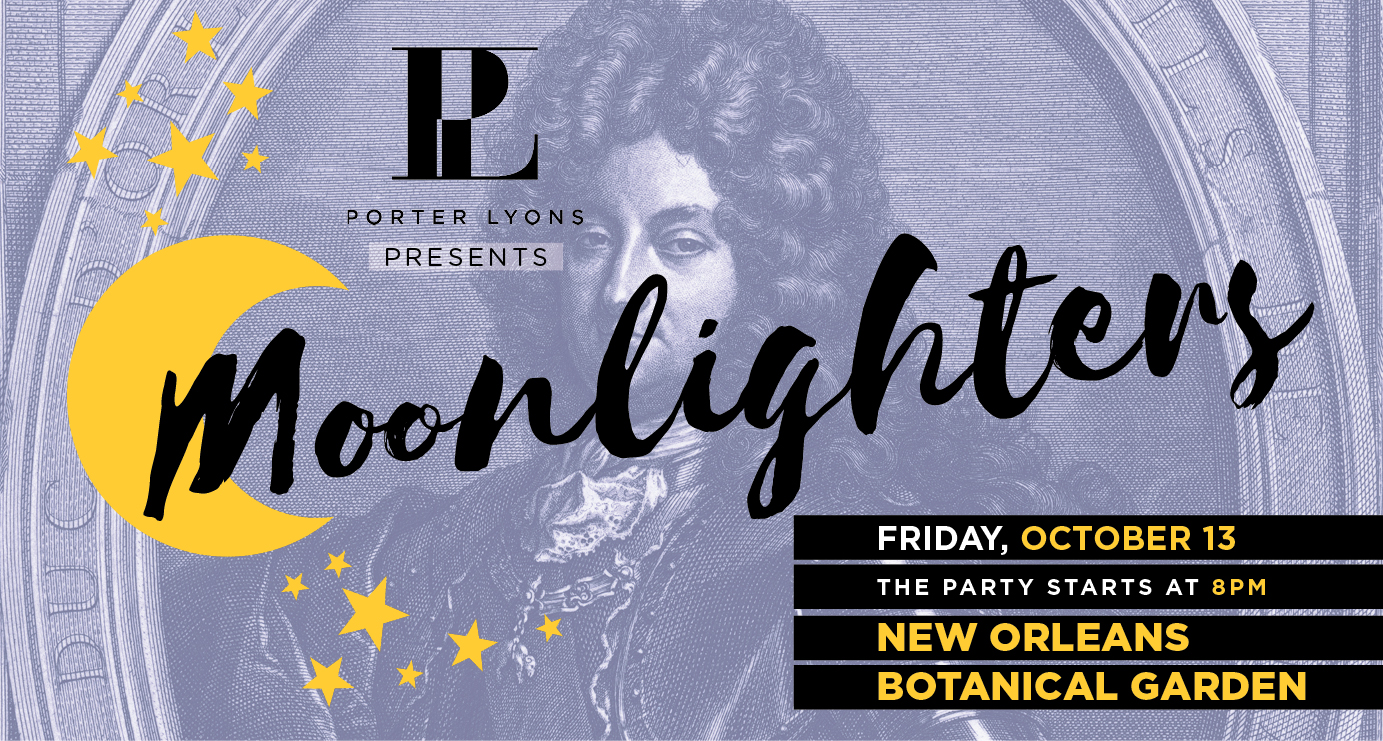 The Moonlighters Magic


Presented by Porter Lyons | Sponsored by Creole Cuisine Restaurant Concepts

On October 13th, the New Orleans Botanical Garden Foundation will host its fabulous al fresco dinner and soiree, Magic in the Moonlight, raising much-needed funds to build an outdoor teaching kitchen in the herb garden. This year, in addition to the dinner, the next generation of attendees are invited to attend an #OPENBAR dinner and dance party and join an inaugural group called the Moonlighters.

What to expect:
The Moonlighters Magic event will be a new, unique 'party within the party' specially designed for 300+ of the New Orleans forty-five and under crowd! The evening will begin with a champagne cocktail hour and hors d'oeuvres by St. James Cheese Company in the newly appointed Garden entrance, featuring the Helis Foundation Enrique Alférez Sculpture Garden. Following cocktails, moonlighters will enjoy a Cocktail Buffet Reception under the Tente de Phillipe II, Duke of Orleans, enabling great food and fun, followed by dancing to DJ Heatwave! Keep your eyes peeled throughout the night for special performances by The Merry Antionettes and Les ReBelles NOLA.

Food:
Our friends at Creole Cuisine Restaurant Concepts will fuel the night's festivities with delicious food from Tommy's Cuisine, Broussard's Restaurant & Courtyard, Boulevard American Bistro, and Royal House.

What to wear:
Cocktail attire, or French Provincial.

Bring your friends!
The more the merrier! Parties are always more fun with all your friends there. Plus, save money when you buy several tickets at once.

Sponsorship Opportunities
We invite you to sponsor one of three bars featuring specialty cocktails of Tattinger Bubbly, Marie de Bourbon or a liquor or cocktail of your choice for the 2017 Inaugural Moonlighters Magic event.

For a contribution of two-thousand dollars ($2000) you'll enjoy:
Listing as a Specialty Cocktail Bar Sponsor on website, invite, social media posts and event signage
6 tickets to Moonlighters Magic
VIP reserved table with wait staff for you and your guests
If you are interested in a 2017 Specialty Cocktail and Bar Sponsorship, please contact Margo DuBos or Juli Miller-Hart.