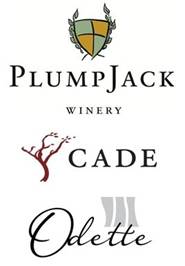 PlumpJack Estate Wine Dinner
Wed, May 19 at 6:30pm (Central)
THE PLUMPJACK STORY
In 1995, Gavin Newsom and Gordon Getty stumbled upon a magical piece of land in the heart of Oakville, Napa Valley. Inspired by one of Shakespeare's most memorable characters, Sir John "PlumpJack" Falstaff, who's fun-loving, down-to-earth disposition is only rivaled by his fierce loyalty to Prince Henry V, with whom he shares more than a few goblets of sack (wine) at the local tavern. We pay allegiance to our world-class vineyard by crafting high-quality wines that honor the land, and we celebrate the convivial spirit of our namesake with their inviting, approachable style.
Join us for the PlumpJack Estate Wine Dinner on Wednesday, May 19th
Learn about wine and food pairings with Chef Grant Wallace and our Sommelier Chris Schneider.
First Course
Seared Scallops with apricot bacon jam
Cade Sauvignon Blanc, Napa Valley 2019
Second Course
Lamb Chops with mint marmalade and tomato caponata
Adaptation Petite Sirah, Napa Valley 2017
Third Course
Sousvide Short Rib Tomahawk with polenta, fried brussel sprouts, and veal demi glace
Odette Estate Cabernet Sauvignon, Napa Valley 2018
Plumpjack Estate Cabernet Sauvignon, Napa Valley 2018
Fourth Course
Spicy Citrus Frangipane Tart
Irish Coffee with a citrus cream
Your safety is our top priority! All tables will be spaced at least 6 feet apart, and parties will be seated at individual tables with no more than 6 guests per table. Our staff will be wearing their masks and we ask that you wear yours when not seated at your table.