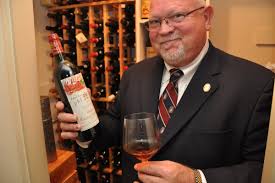 Stout Family Vineyard Wine Dinner
Wed, Dec 16, 2020 at 6:30pm
Guy Stout is one of only 260 Master Sommelier (MS) in the world. He is also a Certified Wine Educator (CWE), Certified Spirits Specialist (CSS), Certified Bordeaux and Burgundy Wine Educator, and previous board member & past President of the Society of Wine Educators.
Guy has also served on the Board of Directors of the Court of Master Sommelier, and has been recognized as a Houston Icon for his contribution to the Wine and Food Industry of Texas. He is a graduate of the University of Houston Hilton School for Hotel Restaurant Management.
He is a Wine Educator and been the featured "wine expert" on the PBS cooking series Cucina Amore with Damian Mandola and Johnny Carrabba, and has also appeared on a number of radio and television talk shows covering wine and food. He was a featured speaker at the Smithsonian Institute Folk Life Festival in Washington D.C. lecturing on the Texas wine industry.
Stout Family Wines, are member of the Texas Wine and Grape Growers Association and previous owner of Stout Vineyards in the Texas Hill Country AVA, producing Syrah and Tempranillo grapes.
Guy is an active wine judge for a variety of national and international competitions, including the TexSomm International Wine Awards, California State Fair, Jefferson Cup, Missouri Grape Growers, Indiana State Wine Competition, and the Houston Rodeo Wine Competition.
Guy is the "Wine Guy" for Stoutwines.com , a small Napa Valley Cabernet Sauvignon and Sauvignon Blanc producer, partnering with legendary Napa winemaker Tom Rinaldi, Zoom wine and food moderator plus Virtual wine educator. He is a member of the Houston Food and Beverage Managers Association and founder of the Houston Caesar Salad Competition for Charity and active spokesman for the adult beverage industry.
First Course
Roasted Fall Vegetable Salad with butternut squash, beets, delicata squash, parsnips, arugula, candied bacon and cane vinegar dressing
Stout Family Vineyard Sauvignon Blanc 2019
Second Course
Seared Country Pate with fig jam, cornichons and brie
Stout Family Vineyard Chardonnay 2019
Third Course
30 Day Dry Aged New York Strip with sweet potato au gratin, grilled shitake mushrooms and an herbed tallow compound butter
Stout Family Vineyard Cabernet Sauvignon 2013
Stout Family Vineyard Cabernet Sauvignon 2015
Fourth Course
Red Velvet Eggnog Icing Parfait
Irish Coffee
Your safety is our top priority! All tables will be spaced at least 6 feet apart, and parties will be seated at individual tables with no more than 6 guests per table. Our staff will be wearing their masks and we ask that you wear yours when not seated at your table.