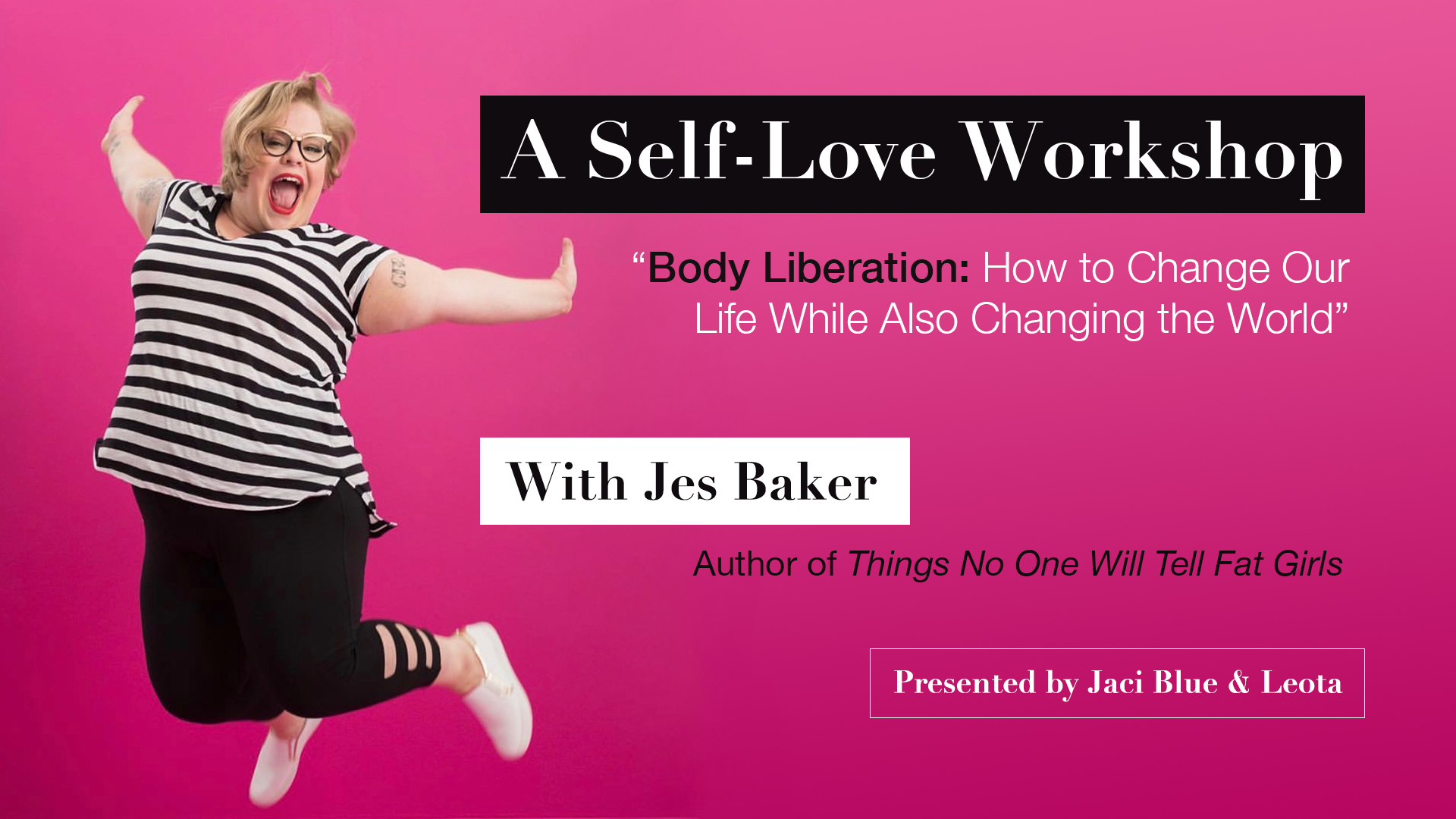 Jaci Blue Boutique and Leota New York present
Body Liberation: How to Change Our Life While Also Changing the World


A Self-Love Workshop with Jes Baker

Online ticket sales have ended but tickets will be available at the door.
Join Jaci Blue and Leota New York for an evening with Jes Baker. Body Liberation: How to Change Our Life While Also Changing the World. Self-Love Workshop, Q&A, and book signing with Jes Baker.
Discover what's possible when we can release physical societal expectations and embrace individual journeys. Together we can use body liberation as a tool to heal the world.
Jes Baker is a positive, progressive, and magnificently irreverent thought leader in the realm of self-love, mental health advocacy, and body image.
She is internationally recognized for her writing on her blog, The Militant Baker, her "Attractive and Fat" campaign, and her literary debut Things No One Will Tell Fat Girls. She is dedicated to shifting social paradigms into a place where all people are offered the opportunity to embrace themselves.
When not writing about body liberation, Jes happily spends her time working one-on-one with other kick-ass humans as a Body Image and Mental Health coach, speaking around the world, working with clothing companies to promote more plus size fashion, taking pictures in her underwear, and trying to convince her cats that they like to wear sweaters and bow ties. You can find Jes at JesBaker.com and TheMilitantBaker.com.
If you haven't read her books, Things No One Will Tell Fat Girls and Landwhale will be available for purchase at the event. Or if you would like to read them beforehand, they are available now at Jaci Blue.
Jaci Blue is a unique brand with a bold and honest voice dedicated to the pursuit of helping plus-size women find their inner worth and learn to love themselves wholeheartedly. They are redefining the boutique shopping experience by offering exclusive access to fashion-forward designs in sizes 12 to 28, radical self-love coaching, body-positive advocacy, and community building. You can find Jaci Blue at 2111 Magazine Street, New Orleans, LA, or online at JaciBlue.com.
Leota designs clothes as versatile and vibrant as you are. Founded on the principles of empowerment, femininity, and optimism. Every detail is designed by women, for women, to flatter a range of body types with the perfect amount of pretty and practical. Whether you're a boss, a mom, or all that and more, Leota has your back! You can find Leota in person at Jaci Blue Boutique or online at shop.leota.com.