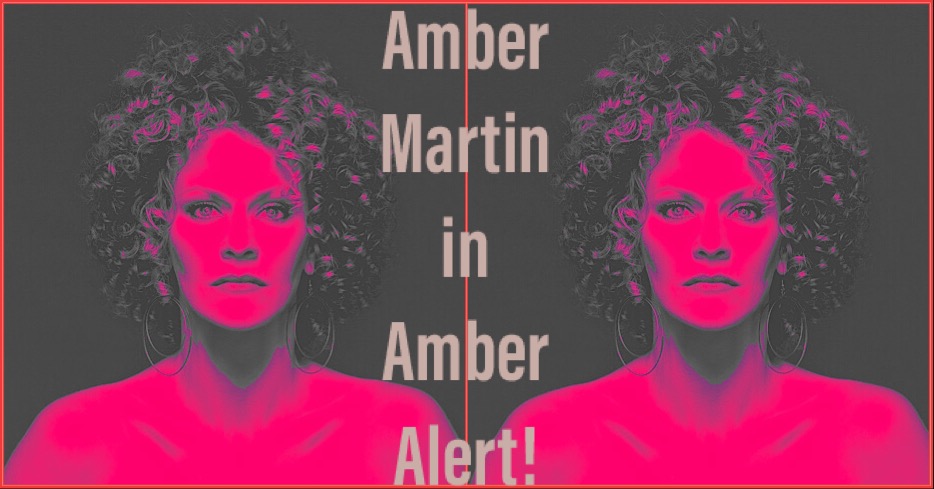 Amber Martin in Amber Alert!
Fridays, Feb 16 - March 9 at 9pm | AllWays Lounge
"Like watching Ruth Draper after she's come back from an acid trip during which she thought she was Janis Joplin" - Willamette Week
Amber Martin returns to New Orleans and The Allways Lounge with the return of her hit NYC cabaret series, Amber Alert!
Amber Alert! takes you on an intimately twisted, charming and sometimes psychedelic musical journey through the mind of Amber Martin, an only child growing up in the 70s and 80s in a small Texas refinery town called Nederland, near the bayous of Louisiana. You are introduced to her toy box of characters as well as her own Southeast Texas-bred personality... each of the 4 shows will ever so slightly refresh each week, to include her very special guests from both New Orleans, Texas, Portland, OR and her current residence, New York City. The final show will tie up the residency with Amber's full on blow out Janis Joplin Tribute! See them ALL!!!
Amber Alert! will be four Friday night performances with different special guests each night, including Harry Mayronne (NOLA), Vinsantos (NOLA), Kaetlin Kennedy (Portland, OR), Rob Roth (NYC), Lee Kyle (NOLA), Eric Schmalenberger (NYC), Darlinda Just Darlinda (NYC), Jason Touchette, Norma Hinohosa, Steve Huelsman, Frankie Randazzo (Beaumont, TX) and more!
About Amber:
Amber Martin is a celebrated NYC Vocalist, Downtown Performing Artist and Comedic Monologist. Greatly inspired onstage in the traditions of Janis Joplin, Lily Tomlin, Carol Burnett and Dolly Parton to name a few, Amber has been named one of the Top Performers of the Year by The New Yorker. Onstage, Amber is a powerful vocalist with a deep love for all genres of classic American pop music, which also inspires her own original songs. Ms. Martin brings a combination of cabaret, belting vocals, comedy and truth to her live, raw, genre-hopping musical performances, casting light on her uniqueness from her downtown contemporaries and bringing a diverse range of entertainment to her equally diverse audiences.
Ms. Martin recently made her Broadway debut in Tales of the City at The Music Box Theater. Some of her performance projects of note include appearing with Joan Rivers on Celebrity Apprentice and opening for Joan's live NYC shows. Martin was twice featured in NYC Mayor Bill Di Blasio's benefit gala. You can hear her belting out featured vocals on The Scissor Sisters single "Inevitable" from their album Magic Hour (co-produced with Pharrell). Ms. Martin appeared with pop star, Kylie Minogue at Dolly Parton's Imagination Library Benefit. She was a featured vocalist with comedian, Sandra Bernhard at Town Hall in New York City and has twice been a featured guest on Sandra's Sirius XM radio show, Sandyland. She has been musical collaborator for couture fashion designer, Rachel Comey's NYC Fashion Week show. She was a featured onstage vocalist with Pink Martini at Forest Hills Stadium. Amber has performed solo in New Orleans at The Allways Lounge as well as The TBA Festival in Portland, OR, Treefort Festival in Boise, Outsider Festival in Austin, Jazz and Blues Festival in Altomonte, Italy, and in NYC's Club Cumming, Town Hall, Joe's Pub, Feinstein's/54 Below, Irving Plaza, La Mama, Boom Boom Room, Wild Project, Abrons Art Center and The Cutting Room.
Amber continues to evolve as writer, curator, choreographer and star of her own performances, The Days of My Lives (Solo Artist Residency at Joe's Pub at The Public Theater, NYC), Amber Alert!, Hi! (Best Solo Performance Drammy Award), Wigshop, Stoned Soul: In Love with Laura Nyro (Residency at Feinstein's/54 Below) and Janis:Undead (a continuing U.S. tour). She is currently touring her first original studio album, A. M. GOLD, co-written with award-winning Australian songwriter, Brett Every. A.M. GOLD was an immediate critical success, including 2 songs that are featured in John Cameron Mitchell's upcoming film, How To Talk To Girls At Parties, starring Elle Fanning and Nicole Kidman.
---
"The pitch-perfect, multi-talented Martin seamlessly floats between multiple costumes, personae and skits, never once leaving the stage, and carrying the calm of a seasoned performer". – The New York Times
"Big, moving Bessie Smith-like sound"
"chill-inducing"
"A powerful woman whose heightened sense of the ridiculous goes head to head with her distinctly American voice"
"Her fullness of voice and spot-on characterizations put the show in another dimension." – The New Yorker
"I haven't laughed like that in I don't know when. Amber is the real deal, a fucking scream, like I Love Lucy on acid beyond the pale! I think she is brilliant!" – Sandra Bernhard
"A chameleonic performer with a mind-blowing voice, Amber Martin dissolves completely into her original characters (and a spot-on Reba McEntire)" "Martin's blend of brash (sometimes bizarre) comedy and beautiful music fit perfectly in her tough-yet-sentimental adopted home, New York City—and has earned her a devoted following." - Time Out New York
Please enjoy the following trailor for Amber's past NYC premiere of Amber Alert! (NOTE: Dates and location in video are not current)
Amber Martin in Amber Alert! - March 2


With Special Guests, Vinsantos (NOLA), Eric Schmalenberger (NYC) and Harry Mayronne!
Amber Martin returns to New Orleans and The Allways Lounge with the return of her hit NYC cabaret series, Amber Alert!
NYC cabaret star and distinguished vocalist, Amber Martin brings her hilarious musical variety show to New Orleans for 4 Friday night performances. Feb 16th, 23rd, March 2nd and 9th at 9pm. Bridging together 2 of the greatest cities on earth, Amber will have celebrity special guests each week from New Orleans, Portland, OR, Texas and NYC!
Amber Alert! is a journey through the delightfully twisted mind of Martin who was born and raised an only child in a small Texas refinery town. From local pageant queen to flight attendant to one of NYC's favorite "downtown" cabaret darlings. Amber takes you through her toybox of characters, while belting the soundtrack of her life including covers of the greatest music of the 70's and 80's with some originals from her new solo album, A. M. Gold.
Harry Mayronne accompanies!
Friday, March 2
Doors: 8pm
Show: 9pm
Tickets:
Advance online: $15
At the door: $20 (cash only)
PLease enjot this clip of Amber singing Gold Dust Woman, in the sold out Night of 1000 Stevies (NYC)
Amber Martin in Amber Alert! - March 9


The Janis Joplin Tribute! With Special Guests, Norma Hinojosa, Jason Touchette, Steve Huelsman and Frankie Randazzo (Beaumont, TX)
Amber Martin returns to New Orleans and The Allways Lounge with the final performance of her month-long residency, Amber Alert!
This will be Amber's grande finale performance of her Janis Joplin show Janis:Undead!!!
NYC cabaret star and distinguished vocalist, Amber Martin brings her residency to a blown out close with her Janis Joplin Tribute!!!
Born in Janis' hometown of Port Arthur Texas, Amber has become one of Janis' great ingenues!!! Her Tribute, Janis:Undead, has seen sold out audiences all over the world. This will be the premiere of Janis:Undead in New Orleans with her phenomenal band from Beaumont, Texas, and her special vocal guest, Norma Hinojosa! A grande ROCK finale NOT to be missed!
Please enjoy this clip of Amber belting Janis last month in Beaumont, TX!
Friday, March 9
Doors: 8pm
Show: 9pm
Tickets:
Advance online: $15
At the door: $20 (cash only)