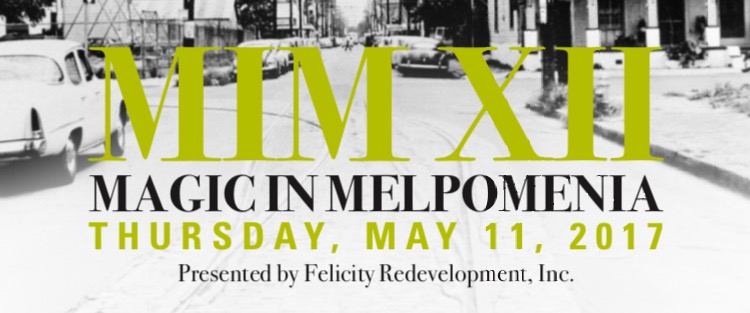 MAGIC IN MELPOMENIA XII
Thu, May 11, 2017 at 6:30pm
The Roots of Music
DJ Jubilee
Crescent City BBQ
Please join us for our ANNUAL FUNDRAISER! This year we are excited to have Central City BBQ filling out bellies, The Roots of Music and DJ Jubilee filling the dance floor, and tons of local artists filling what will be an extraordinary auction!
This event allows members of the community to help support Felicity's efforts in revitalizing the Central City neighborhood. This year will mark seventeen years of advocacy in Central City and the twelfth year of our fundraiser All funds raised will go directly into our neighborhood efforts as we continue to advocate for preservation and blight remediation throughout the Central City community.
100% of funds raised through Magic in Melpomenia XII will be invested in the neighborhood. Your generous donation will benefit this historic neighborhood, a vital link between new developments in the Central Business District and Uptown New Orleans.